Company History
Vista Landscaping was founded in May of 1995. Owner Pete Yzerman had worked in horticulture since the age of 13 growing all manner of Nursery Stock as well as many varieties of potted plants. After years of working for others he decided to start his own business and Vista Landscaping was founded. It started as a small proprietorship and after about 13 years of hard work he decided to start expanding. At this time the need to incorporate the company became apparent so Vista Landscaping became Yzerman Enterprises Incorporated DBA Vista Landscaping. Since then the company has grown to include 3 maintenance crews and a landscape division. We pride ourselves on having hard working knowledgeable staff providing quality dependable year round service to our customers.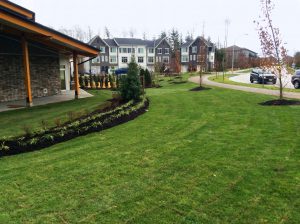 Strata and commercial Maintenance Division: We know that your property is important to you and our knowledgeable and trained staff will work hard give you a beautiful and manicured property that will give you excellent curb appeal. Call for a free estimate.
Landscape Installation/ Renovation Division We provide top quality workmanship and materials whether it is a new landscape or you are redoing your existing landscaping.
Some of the many services we provide are:
Design
Retaining walls and paving stones
Fencing
Water features
Landscape lighting
French drains
All soft landscaping
We offer snow removal and salting services to all of our commercial and strata customers
If you have any questions, please do not hesitate to contact us.